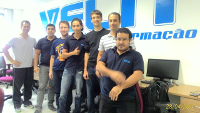 After extensive study of the frameworks and development tools available in the market, Velit Tecnologia, active since 2011 in the ERP market for the segment of auto parts in the northeast region, decided to use the Adianti Framework in its management systems. In order to accelerate the learning curve, the group contracted the Adianti face-to-face training, in which knowledge about the Framework, and development IDE is transferred, and also aspects of modeling, software architecture, and customizations per project are discussed.

With the training, the group's IT intends to apply the framework in the development of the new web interface of its ERP management system with Oracle database. The training was useful for the team to have greater confidence in the use of the technology, to take still doubts about Object Orientation in PHP, persistence layer, use of the Framework, to perform leveling of the team, and also to discuss about the architecture to be used in the project .

Paulo Rogério Martins Oliveira, manager of Velit, already envisions considerable time gains in the development of new interfaces. But the main benefits are standardization of source code, readability, organization, and also application performance.