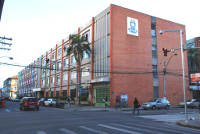 After more than three years of intense work, the IT department of the Catholic University of Pelotas (www.ucpel.edu.br) finalized the development and began the implementation of its new academic ERP (Zattera-SGU) developed with the Adianti Framework. This project began in 2013, when the team was fully qualified by Adianti Solutions in PHP, Object Orientation and Adianti Framework.

Academic ERP will manage the entire student relationship with the institution: enrollments, additions, cancellations, collection, financial, historical, class journals, selection process, among others. The new ERP was developed with the Adianti Framework with the support of Adianti Solutions. Adianti already has extensive experience in this type of system since it also has Univates (www.univates.br) as a client for more than 10 years, having supported it in the development of various academic systems.

Born with a community profile, the Catholic University of Pelotas is the first Institution of Higher Education in the interior of Rio Grande do Sul, and is dedicated to teaching, research and extension. Although the University officially existed since 1960, its history began well before, with the faculty of Economic Sciences in 1937.