2015-12-16
Adianti Framework, Adianti Studio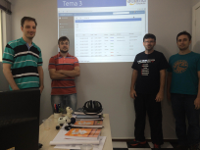 After extensive study of frameworks and development tools available on the market, the NutriCard and BônusCred companies, from Paraná, that work in the segment of food cards and private label cards, respectively, decided to use the
Adianti Framework in their management systems. To speed up the learning curve,
the group hired the Adianti training in which the knowledge is transferred on the Framework, development IDE, and they are also discussed aspects of modeling,
software architecture, and project customization.

The NutriCard is a benefit company, which offers food and meal cards, bringing benefits to employees and enabling the reduction of burdens on companies.
It is a product linked to the Trade Associations in each city where it operates, allowing that resources remain in the city. Otherwise, the BônusCred is a new concept in shopping system credit, no annual or monthly fee, is facilitated installment sales. The group was born BônusCred in Foz do Iguaçu - PR in order to assist local entrepreneurs in the management of their installment plans, taking the difficulties that management and providing tools facilitators, thus enabling the entrepreneur stay focused on your business.

With the training, the IT group intends to implement the framework by more than 5 software internal management. As Tiago Bruning, IT manager, the training showed that Adianti Framework is the most appropriate tool for developing management systems. The training only came to confirm the right decision in choosing the development tool. He already sees considerable gains in time in the development of new systems. But the main benefits are the standardization of source code readability, organization, as well as application performance.
Tiago follows the work of Adianti for several years, and concludes that this is the right time to achieve the developments the group's systems.